Friendly URLs
Friendly URLs improve usability and user experience. They allow for example to search posteets by tag, by users, combination of both…

Browse tips related to "mail"

Browse tips from neorom user
Browse neorom tips tagged administration + mail
Tag clouds
Tag clouds are a visual depiction of user-generated tags. This way both finding a tag by alphabet and by popularity is possible and browse the related posteets.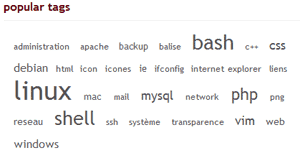 Tagging
People can categorize their tips with any and unlimited tag that makes sense

When you add a posteet you have two solutions to add tags to it:
From your tag cloud on the right: click one tag to add it to the tag list
The tag field is powered with an autocompleter feature that creates a suggestion box
Syntax highlighting
Syntax highlighting provide readability for source codes. Just choose the language of your snippet and highlighting will be automatically applied.

Raw source
If you want to copy the snippets on your desktop, just click the 'view source' link to display an unobstrusive pop-up where you will be able to copy the code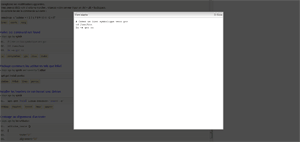 Differences
Difference between copied tips are highlighted and changes can be tracked. Removed parts are colored red and added parts are colored green

Bookmarklet
Bookmarklets are free tools to help with repetitive tasks. Posteet bookmarklet will post the current page you are browsing to your posteet account and auto-describe adddress and title. Additionnaly it will include in the description field whatever text you have selected on the page. Drag the bookmarklet to your browser's toolbar and click it whenever you want to add a posteet.
Watch this video for usage information: Posteet bookmarklet